I just love that opening line to
"Paid in Full" by Eric B. and Rakim
. Actually, the whole song is pretty dope but the rest of the lyrics make absolutely no sense for this blog post so let's move along...
Master Bedrooms! That's what my mind is on today.
"Sidenote: So since it's called Master Bedroom, and I will be the occupier of such a room, does that make me the MASTER? Why yes... YES IT DOES!"
So now that we have established heirarchy, let's chop it up.
I was thinking about what I want my new room to look like. I have always had beautiful homes. My ex and I had similar taste and we both were very particular about how we wanted our home to look, but there was one thing missing. The rooms were well appointed but none of them were really a reflection of our deeper selves. Sure, they looked great, and we liked them just fine. But after a while, the design would get old and stale. This time around, I want to be sure that "TAMI" is in the house! WOOT!
My bedroom has to be a place where I can retreat. I want to walk in and feel like this is MY space. I am single. I don't have to share my design ideas with anyone when it comes to my bedroom. I want this to be a place I will enjoy lazing around in on a Sunday morning. I want to curl up in my bed and read a good book. I want to close the door after a hard day and unwind. Light some candles, play a little jazz and close my eyes.
How do I pull this off? Well, I can share that I have an affinity towards sexy speakeasys and a love of Old Hollywood. And I have been thinking of ways to merge these two amazing eras into one FABULOUS look for my boudoir.
There are a few places in Los Angeles that I really love because they have that dark and sexy vibe that the old speakeasys had. For example:
The Varnish in DTLA
Seriously, this is the coolest of the cool hidden spots, my loves. Imagine you have entered a time warp. When you come out of the other side you are dead center in a 1920's roaring speakeasy. At The Varnish,
a black-vested gent leads you to a shiny wood banquette, where, to your left, perch two gals with pinned-up hair-dos and, to your right, sits a mustachioed man in a bow tie. At the bar, you can enjoy Prohibition libations. An old piano is parked in the corner where the good ole Jazz Age comes to life. I just love that old ragtime music!
This spot is next door to Chateau Marmont. Not as ultra-trendy as it used to be, but it still lures a A-list crowd for cozy cocktails. Resplendent with rich brown tufted leather banquettes and a tantalizing courtyard, this night spot is a modern day take on the speakeasys of yesteryear. And I don't know about you, but these dark red fringed lanterns just do it for me.
This is the one true bona fide speakeasy that has the right to call itself so in all of Los Angeles County. The Prohibition Era is alive and well in this Venice basement bar. Dating back to 1915, this bar used to only be accessible via secret tunnels during Prohibition. In addition to historical libations you can also find a bevy of micro-brews and craft beers smuggled in by the Del Monte staff, proving that mystery and secrecy are still a huge part of this iconic landmark.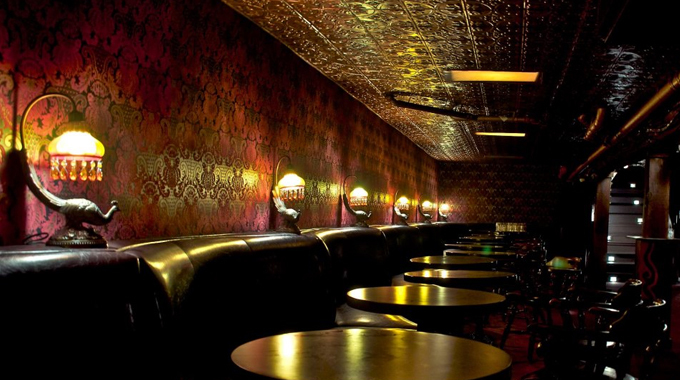 This speakeasy has an exclusive door policy, so it's best to visit this place if you know someone who knows someone. But once you are inside, you are met with a dark and sleek environment complete with leather couches, a stage where live music is performed, and some of the priciest drinks in town (like $18 per cocktail!). But just look at this place. Can you say HOTNESS!
Now, let's talk Old Hollywood, for a moment. I love the opulence and femininity that was celebrated during this era. Still sexy but with lots of glamour. I have a particular love of the under-celebrated African-American starlets of this bygone era. Josephine Baker, Lena Horne, and Dorothy Dandridge. All gorgeous women. But none of the fame and glory of their Caucasian counterparts. I would like to step back into nightlife to take a peek at how Los Angeles infuses Old Hollywood in the current bar scene.
Nestled right in Old Hollywood on Yucca Street, The Parlour Room is gorgeously appointed with green tufted leather seats, a marble bar, plenty of sparkly chandeliers and vintage gold mirrors, giving it a swanky basement hideaway vibe. Want to slip away? Maybe you can grab a seat next to the fireplace on the enclosed brick patio out back.
Previously Bugsy Siegel's old apartment, The Tower Bar is one of the chicest and coziest bars in town. With both a fireplace and discreet niche seating for privacy, the walnut paneled walls give way to sweeping views of the city. Here you can bask in rose colored lights while listening to a live jazz pianist. I just love how welcoming this bar is.
Combining the glamour of the past with contemporary style, The Bar is a chic and sexy location. Recently renovated in 2011 and with the addition of Wolfgang Puck, The Bar exudes a very wealthy and glamorous atmosphere. You can enjoy a warm fireplace while a pianist entertains you on the baby grand. I love the mixture of black and white photos, with brass and marble and dark charcoal walls. It's sexy and modern with a touch of vintage Old Hollywood. The perfect mix. Here are a few photos of this amazing space.
So there you have it, my loves. My crazy design filled mind is jumping for joy with the challenge of creating a bedroom design that blends these two looks together in a sophisticated way. I know you are wondering how I can pull together a bedroom design when I am looking at bars... but just you wait and see.
Well... what do ya think?
xoxo