*DISCLAIMER: I am not being paid for this review. All opinions are my own.
Hi friends, I just came across something super exciting. It's this e-book called
The No Brainer Wardobe
.
(insert cheers and yippees!)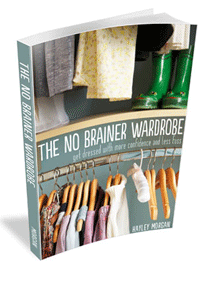 There are so many things i love about
The No Brainer Wardrobe
. For just $7.99 you can read and learn about how to discern and dress your specific body type. This makes me so happy. Especially since my body has changed a bit in the last 5 years and now that I am working out regularly, I can't fit some of the things I own. Many days I am super unhappy with my everyday clothing selection because of the limited selection I now have. I don't always know how to best mix and match things and I am horrible at accessorizing.
I am firm believer in still loving your shape and size, and dressing well even if you are not at your goal size or weight. Embrace your body and express yourself. In this book, Hayley will teach you how to better do just that. She walks us through our closets, purging them, growing them on a budget, discerning our own style, and so much more.
"It really is about realizing that looking perfect everyday isn't the aim. Looking good and put together, feeling proud and confident -- now that is what it's about." - The No Brainer Wardrobe
Three of my favorite things about
The No Brainer Wardrobe
are:
Hayley teaches us how to build a look book. I LOVE this! I love her examples and I love the idea that I can look at a picture of myself and be like, "Oh yeah! I can wear this with that and I already know that I love how it looks". So often I forget how much I already have and the combinations I can create with my clothes.
How to dress for your body type. Um, yes please. And...
How to shop a thrift store. This really is an art. I used to do this all of the time. I was realyl good at it. But alas, it has been many year and I really need to get back into practice. There are so many amazing vintage thrift stores in Los Angeles. So I am learning to regain my confidence in this area, thanks to The No Brainer Wardrobe.
Here is an excerpt from the book description:
The No Brainer Wardrobe is a book to help women learn to love the clothes they have, lose the clothes they hate, and shop for items to fill the gaps. The book contains over 80 pages of content, including images outlining outfit selections, how to shop, and how to build a lookbook.
She has a lot of great tips for uncovering your style, working with your body type and creating outfits that look + feel great. The visuals in the book are a big help. Overall it is a great reference.
The hardest part of going through this process is the parting. You know, saying goodbye to the stuff I never wear for one reason or another but looks really good hanging in my closet. Because I am serious about turning my walk in closet into a boutique closet, I really need to ramp up my wardrobe game. I am really pleased that I decided to do this. YAY!
xoxo